Meet Our Olympic Surfers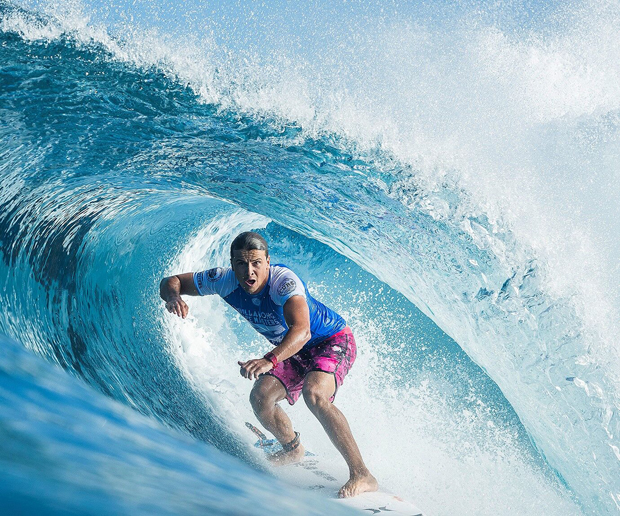 Surfers all over the world were pretty stoked when they heard Tokyo had included their sport into the line up for the 2020 Olympics.
It's been a long time coming.  The dream stems all the way back to The Duke, the famous Hawaiian surfer, who on the Olympic podium during the 1920's voiced this very idea.
Surfing has come a long way in the last century with Australia and the United States being considered the strongest contenders for decades.
Lately, however, the Brazilians are making names for themselves winning more and more international competitions.
In fact, Gabriel Medina from Brazil finished first in the Rip Curl Narrabeen World Comp in Sydney at Narabeen  just a week or 2 ago with American, Colin Coffin finishing 2nd!
Therefore, it's up to all of us to cheer our Aussies on to win gold.  It won't be easy.  Not only is the competition getting tough, but the surfing conditions in Japan means that the judging will be very technical.
However, with a name like Irukandjis (deadly jelly fish), we definitely have the right mind set.
The Irukandjis  – That's Our Team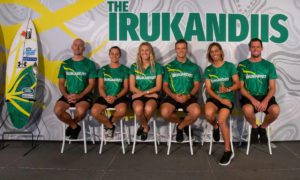 After several qualifying events, the surfers set to represent Australia were announced in March, 2021.  It was also announced the team will go by the name of the Irukandjis, the highly venomous jellyfish.
The line up includes Matt Formston,  Stephanie Gilmore, Sally Fitzgibbons, Harley Ingleby and some locals, Julian Wilson (originally from Coolum) and Shakira Westdorp (Tugun).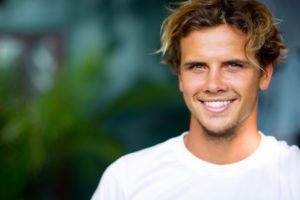 It's fun to have a Queenslander from the Sunny Coast as part of the team.
Julian clearly made the Olympic team because he holds 5 World Surf League Championships and was awarded the Vans Triple Crown World Champion in 2014.
Fun Fact: Julian Wilson is the only surfer who can do a very tough manoeuver called the Sushi Roll.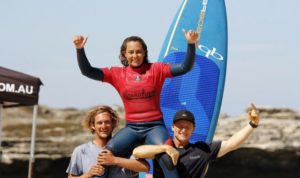 To represent the Gold Coast, we are lucky enough to have 4 time champ SUP surfer, Shakira Westdorp.
She has been selected to compete in Tokyo and promises to make a big impact at the Games.
We reckon she'll do well because from all accounts, she is fearless having travelled the world to face 15-18 foot waves in Hawaii and Fiji.
The Dawn of Surfing – The Duke

The first surfing references were found in Polynesia. Cave paintings from the 12th Century have been found showing people riding on waves.
Polynesians brought surfing to Hawaii where the sport went viral. That makes sense of course, because who isn't fascinated  with surfing? Especially in the enormous surf of North Shore, Oahu.
What's really interesting is how it spread. Tourists to Hawaii like famous writers, Mark Twain and Jack London, spread the word in waves.
But the main catalyst for the wide spread popularity of surfing would have to be from the most famous surfer,  Duke Kahanamoku. 
Born in 1890, 'The Duke' was a talented swimmer and obviously one of the best surfers on the Hawaiian Islands.
In 1912 in Stockholm and in Antwerp 1920 he competed in the Olympic games as a 100 meter freestyle swimmer. Winning gold at both events, his win was attributed to his crawl technique he adapted from surfing.  He thus traveled around the world seeking the best surfing conditions.
Of course, he hit Australia and California where he found some keen disciples of the sun, sand and surf. His dream was to one day see Surfing as an Olympic sport.
Well, it's finally come true.

How It's Judged – Speed, Power and Flow

There will be a series of heats that start off with up to 5 surfers who compete at one time for 30 minutes.  The main rounds will include only 2 surfers.
The panel of 5 judges will dole out points based on a set criteria:
Commitment and Degree of Difficulty
Innovative and Progressive Manoeuvres
Combinations of Manoeuveres
Variety of Manoeuvres
Speed, Power and Flow
The manoeuvres they are looking for include:
Cutbacks
Off the lips
Floaters
And more progressive moves like
Aerials
Slides
Reverseals
And the Ultimate – The Barrel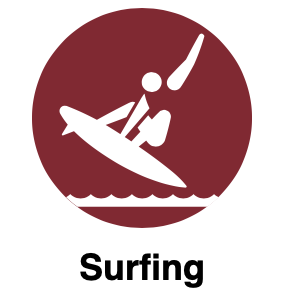 For a complete list and full explanations, have a look at this site.
Also, we'd recommend you watch this video NYT Sufers Chat about Olympics 2020
The New York Times journalist chats to some of the most prominent surfers from Australia, the US, Brazil and France about surfing and going to the Olympics.
Check out the Tokyo Olympics Surfing page if you'd like more info.
Strength Training for Surfers
We've asked Stewart to discuss what sort of training surfers need for their sport….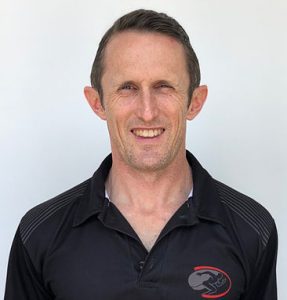 The idea of using strength training to help supplement surfing training is still relatively recent.
You have the standard flexibility, stability, strength & power needs like most athletes, However surfing requires some specific improvements in:
Aerial Control – body awareness exercises leading into trampoline workouts.
Spacial awareness is something high level surfers would already have in spades, except when you are trying to take your performance to uncharted territory then you sometimes need to do uncharted training.
If we start out with your standard hip and shoulder stability training and progress onto complex balance training and then rolling drills which would be establishing  the building blocks to apply to these movements while in the air.
Lower Body Strength – from squats, to lunges to rotational movements.
A surfer needs multi-directional strength, with a good, low centre of gravity to ensure they stay attached to the board when it moves aggressively on water and in the air.
Lower Body Power – high level surfers have good lower body power from just surfing.  However to prepare for the largest waves and more spectacular moves,  an athlete needs to be able to absorb a higher load.  The higher the load and explosive power the better.
Upper Body – strength and stability is also a key but more to help with the paddling to get out into the surf quickly and easily.
It also helps with building up more speed to ensure the surfer can catch specific waves with the velocity needed to be effective.
Several factors need to be considered to plan out the training week for a surfing athlete. The reason is that surfers need to be able to SURF to get better at their sport.
Therefore, strength gains need to be very progressive over a long time period to avoid large amounts of muscle soreness which can prevent them from doing what they love: surfing.
Well, let's hope the Irukandjis have a good strength coach –
They'll need one.  Between the surfing conditions and the tough competition, our Irukandjis  will need to be especially deadly!
But, we're Aussies and we can do hard things.  No worries!